The Italian Renaissance house at 614 North Poplar Street in Paris was built by Orion C. Barton, prominent businessman and philanthropist, and his wife Tillie Cavitt. Prominent Atlanta-based architect Brinton B. Davis was retained to design the villa style home. Graceful and elegant, upon its completion in 1916, the mansion was featured in American Architect Magazine where it was pictured and described as the "Crown Jewel of West Tennessee." Grand-daughter Matilda Gibson heir to the mansion made the property available to Henry County in 1941 for a small sum of money. The mansion has since served the community for over eighty years. Cavitt Place provided army officer headquarters during WWII while Camp Tyson was being built outside of Paris. Cavitt Place was home to TVA for many years. Most memorably, the house served generations of residents as the Henry County Health Department. 8X10 photograph, accession #2022-34-01.
Prior to the building of the Italian Renaissance mansion, The Bartons were at home with their two daughters in a rambling two story Queen Ann Victorian residence sprawled on a beautiful expanse of Cavitt property on North Poplar Street. The Queen Anne Victorian was dismantled, torn down, reportedly after a fire in the house in and around 1911. The wrought iron picket fence remains today from the old house at 614 north Poplar, nothing more. Much of the fine hardwood and decorative trim from the old house was repurposed to trim out several homes built down the hill on Poplar Street, homes still present today. Old Cavitt Place Property at 614 north Poplar Street photo, 1900's, accession # 2022-34-02.
Portrait of the Barton daughters, Woodie and big sister Anne, early 1900's, accession # 2022-34-03.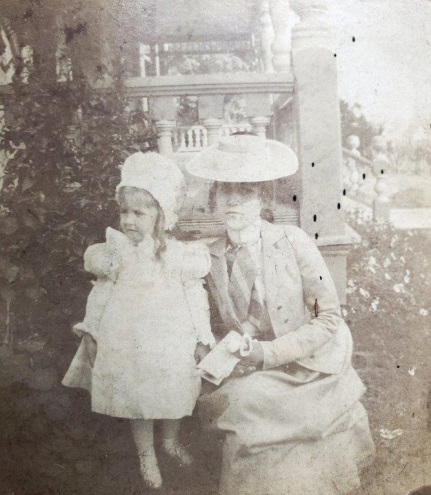 Woodie and Anne, side yard of the old Cavitt property, small portrait, accession # 2022-34-04.
Front yard Pose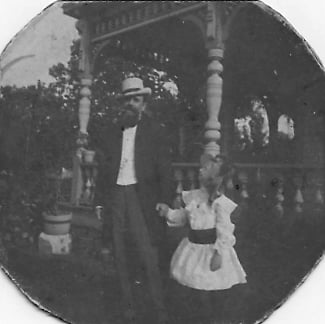 Mr. Barton and Woodie in the front yard, about 1904, photo 3X4, accession #2022-34-05.
The New Barton Mansion Claims the Property at 614 North Poplar Street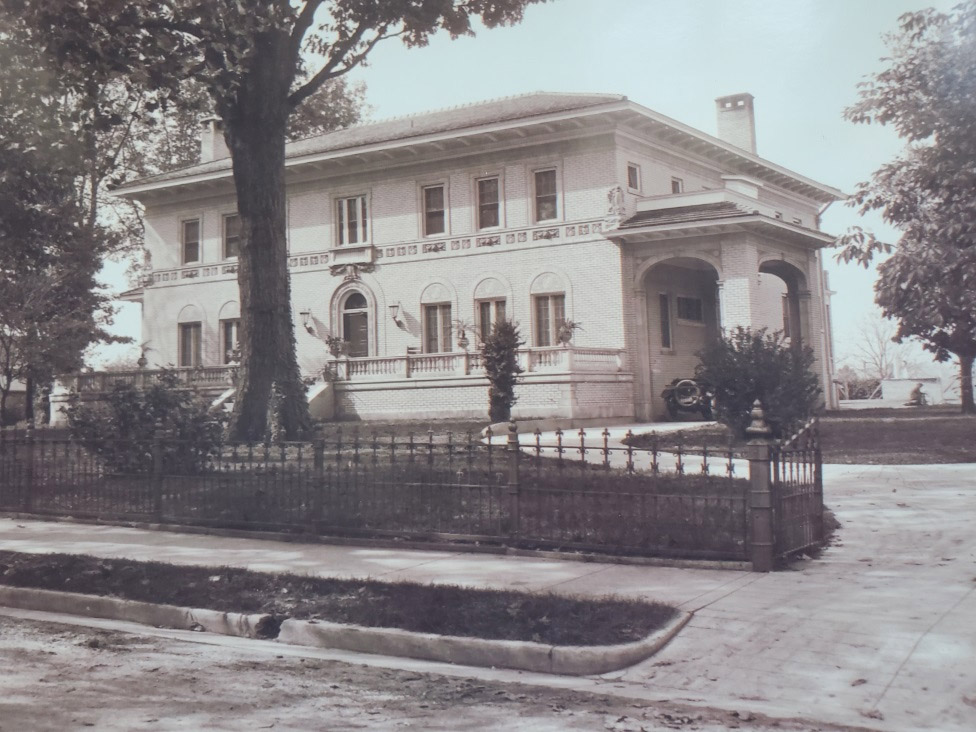 8X10 Photo, from the American Architect Trade Publication, 1916, accession # 2022-34-06.
Soon after the old Cavitt property house was destroyed, building of the New Cavitt Place commenced in and around 1911. The house was photographed upon completion in 1916 as pictured here for a feature layout in The American Architect Magazine; Architect, Brinton B. Davis designed the crème brick, terrazzo trim Italian Renaissance Revival style structure that became known as the Crown Jewel of West Tennessee.
Stepping Out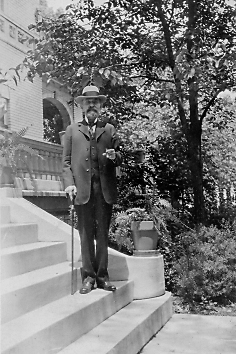 Orion C. Barton, Esquire of Cavitt Place, front steps, about 1920, 4X6 photo accession # 2022-34-07.
Millionaire, Philanthropist, Family Man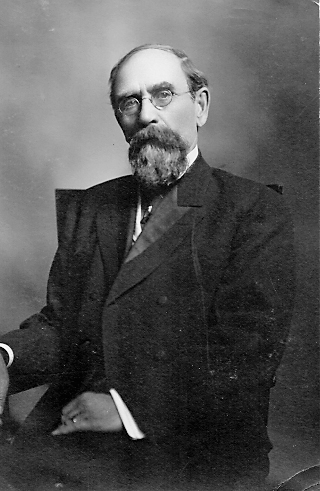 Barton was passionate about serving and interested in whatever uplifted Paris and gave generously during his lifetime. Mr. and Mrs. Barton built Cavitt Hall, the girl's dorm at E.W. Grove High School; Barton Athletic Field at Grove High School; Barton Hall, at Union
University, Jackson, TN; The Woodie Barton Gibson Settlement House, Nashville, TN; The Barton Building at Baptist Orphan's Home, Franklin, TN. In addition, they gave a significant sum of money to build the First Baptist Church of Paris. Reportedly the first millionaire in Paris, Barton seemed to have a Midas touch for enterprise. 5X8 portrait, accession # 2022-34-08.
Ladies of the House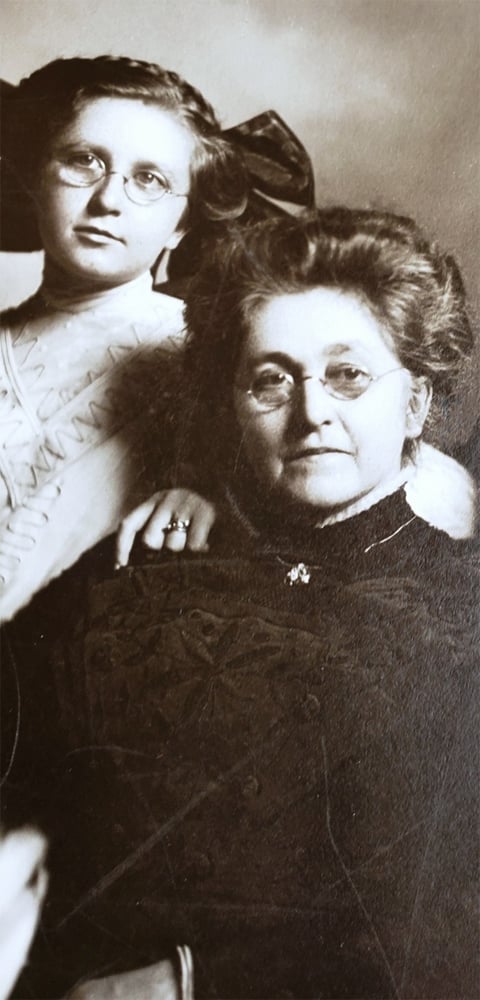 Woodie Cavitt Barton was the daughter of Tillie and Mr. Barton. The Bartons married in 1893. Detail from portrait of Woodie and her mother Tillie Cavitt Barton, second wife of Orion C. Barton early 1900's, accession # 2022-34-09.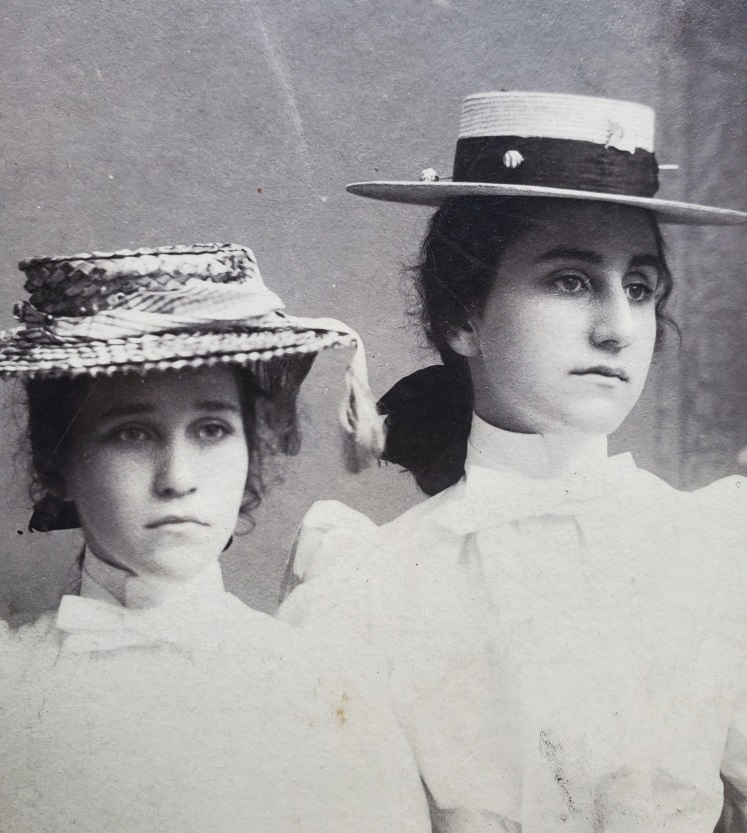 Anne Hardy Barton and Nelle Ross Barton, daughters of Tommie Crutchfield Barton, first wife of Orion C. Barton; Small portrait 2X3, early 1900's, accession #2022-34-10.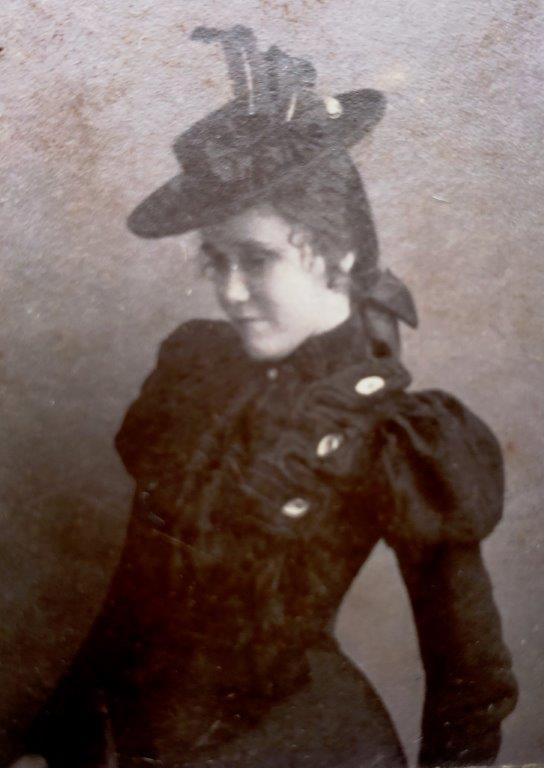 Tiny portrait of Anne, early 1900's, accession #2022-34-14.
Grand Children, lived next door at 702 North Poplar Street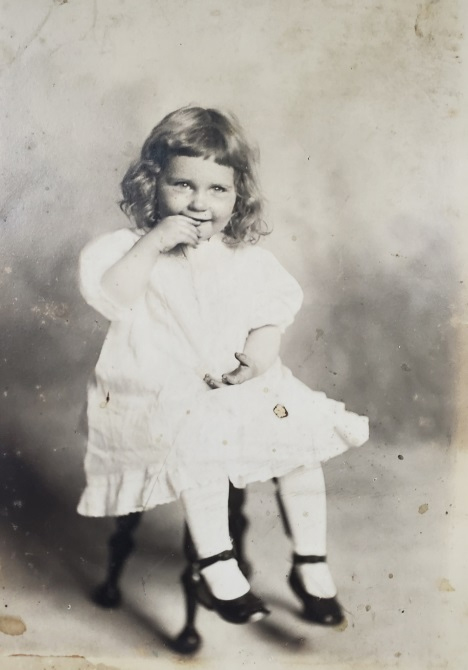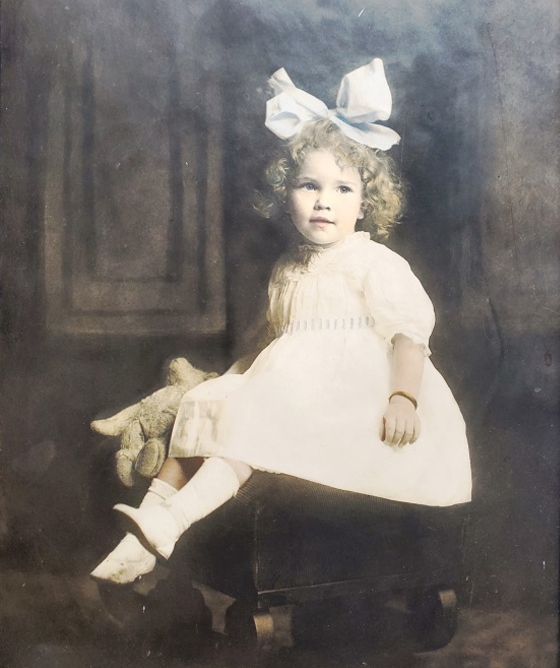 Granddaughters Nelle and Margaret, daughters of Ann Barton McSwain and Horace McSwain; Photo of Nelle Cavitt McSwain, accession # 2022-34-11; 8X10 portrait of Margaret McSwain, accession # 2022-34-12; Anne Hardy Barton married Horace A. McSwain in 1904 and they lived just next door to Cavitt Place. Doctor and Mrs. McSwain had also a son, named after his father and who became a doctor like his father (no picture available). Margaret never married and lived up the street on Poplar.
Grandchild and Cavitt Place Heiress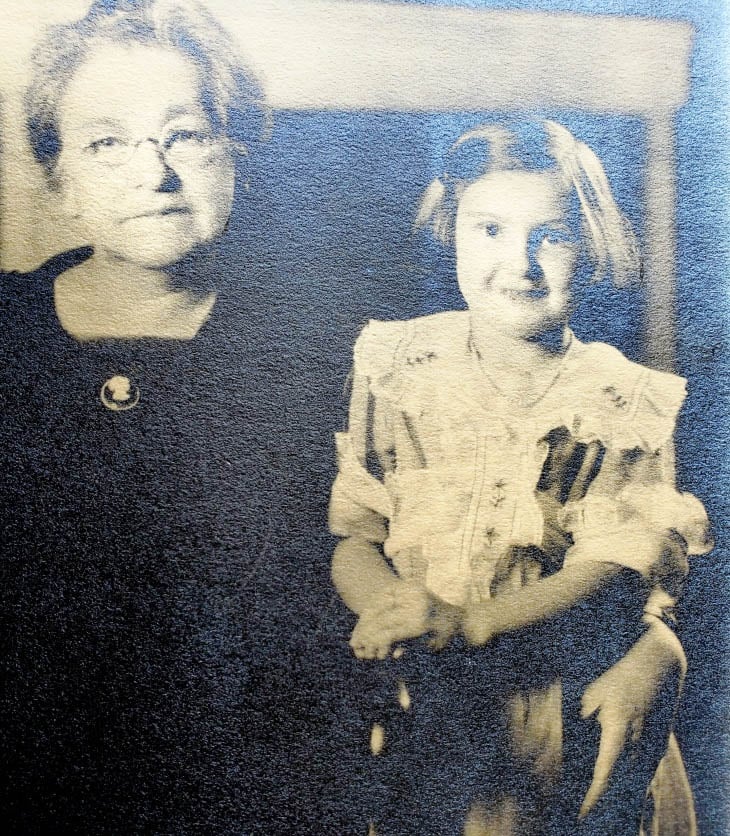 Granddaughter Matilda Barton Gibson and grandmother Tillie Barton, photo accession # 2022-34-13; Matilda was the daughter of Woodie Barton Gibson and Joseph Gibson Jr. of Belle-Meade, Nashville, TN. Woodie died in 1918 not long after giving birth to Matilda.
Mrs. Barton died in 1924 when Matilda was just six. Fourteen years later in 1938 at eighty eight Mr. Barton died. The house was only twenty two years old at the time.
Matilda Barton Gibson was twenty and was heiress to Cavitt Place and a substantial Trust in her name. In 1941, Matilda and her father Joseph Gibson of Belle-Meade, TN (Nashville) met with the city and county and with civic stakeholders to assess the best plan forward for Cavitt Place. The Gibsons, et al in agreement, decided to offer the property to the county for its use for less than $8,000.00. The Bartons had always been generous community supporters, Matilda and her father Joe Gibson followed suit. By all but giving the mansion to the County, Matilda had opened a window for Cavitt Place to provide a supporting accommodation to the county. At her death Matilda left the remainder of her Matilda Barton Trust to the Tennessee Baptist Convention and to three named persons, as was her grandfather's wish. The church's portion was $90,879.33.
Thanks to Matilda Barton Gibson, Cavitt Place at 614 North Poplar Street has served the community for more than eighty years in different supporting roles.
Read the expanded Story of the Family and of Cavitt Place Mansion on the front page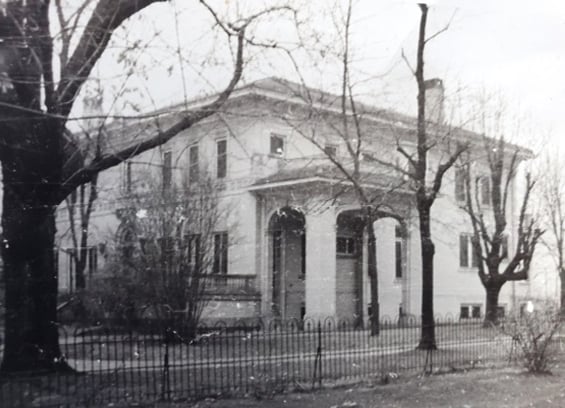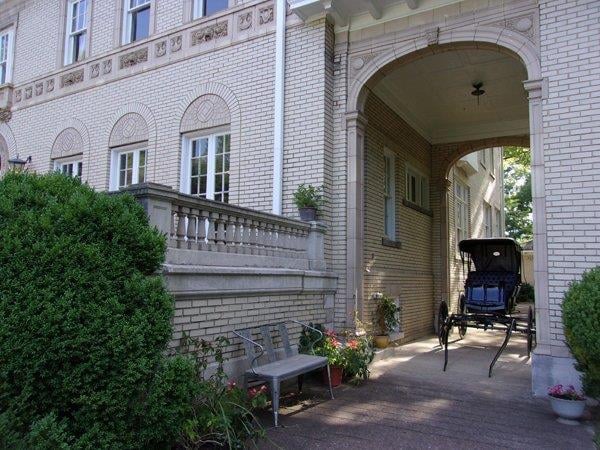 Cavitt Place Then and Now North Portico Views